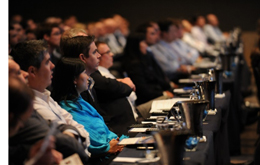 2011 marked an important year in the history of the Australian securities market as a new equities trading venue was able to enter into the Australian market. Experiences overseas suggests that the introduction of competition can lead to rapid and significant change to the market, but is this true for the Australian market? This year's Australia FIX Conference will review the changes over the last 12 months and evaluate whether the institutional trading community has benefited from the developments. The conference is designed to be informative and highly relevant to the local market as it is formulated by domestic and international practitioners.
Keynote Speaker:

Nick Leeson
Industry Commentator

Nick Leeson, offers his perspectives on the imperatives of risk management and transparency in the sub-second trading world and will take questions from the audience.
The following topics will be covered:
Year in Review - Has it been worth it?
The Year Ahead - What's next? Regulation, Cost, Technology & Competition
Best Execution and TCA
Technology Issues - Latency, Market Data, Co-Location
The Key Buyside Trading Issues
The Latest Sellside Trading Issues
Electronic Trading in Other Asset Classes
The Impacts of Market Microstructure Changes
Since 2009, the Australia FPL conference has been known as one of the most important trading conferences in Australia. The conferences are created by the industry, for the industry and contain no sales pitch. The event will bring together over 250 leading buy-side dealers, hedge fund managers, brokers, traders, exchange representatives, regulators and solution providers to discuss the latest issues in trading.
With a mixture of presentations, panel discussions and exhibition, the event provides the opportunity to hear the experiences of the stimulating speakers and network with your industry peers.
Admission for this event is complimentary but by invitation only (registration and approval is required).
For enquiries, please contact Barbara Law at barbara.law@fix-events.com.