The 5th Asia Pacific Trading Summit
ASIA - The changing trading environment &
how it affects YOU

Following on the success of the FIX Protocol Electronic Trading events held across Asia since 2003, FPL Asia Pacific Education & Marketing Sub-committee is organizing the 5th Asia Pacific Trading Summit 2007 in Singapore on 10th May 2007. The event will bring together over 250 of the region's leading buy-side dealers, hedge fund managers, brokers, traders, exchange representatives, regulators and solution providers.
Format:
1-Day Conference with Presentations, Solution Exhibitions, Networking Luncheon and Cocktails Reception

Featured Speakers Include:
Srinivas Padmasola, Electronic Trading, Merrill Lynch
Chris Jenkins, Executive Director, Sales and Operations, Asia Pacific, TORA Trading Services
George Molina, Director of Asian Trading, Franklin Templeton
Dean Chisholm, Head of Operations, Asia Pacific, INVESCO
Patrick Lawlor, Executive Director, Macquarie Securities
Wendy Feller, Associate Partner, IBM Institute for Business Value
Eddie Guillemette, Director, Merrill Lynch, Hong Kong
Kirtes Bharti, Senior Trader, Nomura International HK Ltd.
Joseph Cavatoni, Managing Director, Regional Head of Equity Swaps/SBL and Collateral Trading, UBS
Chris Baker, Head of Asian Equity Finance, HSBC Global Markets
Brook Teeter, Director, Head of AES Sales, Asia Pacific, Credit Suisse
John Fildes, Managing Director, Instinet
Rob Flatley, Global Head of Equity Electronic Trading, Deutsche Bank
David Klinger, Managing Director, Liquidnet Asia
Alasdair Haynes, CEO, ITG International
Greg Yanco, CEO, AXE ECN
Seth Merrin, CEO, Liquidnet
Joel Hurewitz, Asia Pacific Head of Electronic Trading Products, HSBC
Eric Goldberg, CEO, Portware
Robert Dykes, Founder & CEO, Tora Trading
Joseph Ahearn, Co-Founder & CTO, TradingScreen
Don Carey, Managing Director, Bloomberg
Rajeev Baddepudi, Senior Analyst, Eurekahedge
Weng Cheah, Regional Head of Execution Marketing, Deutsche Bank AG
Jenkin Leung, CEO, Hindsight Investment Management
Jonathan Field, Senior Vice President, Business Development, Alternative Fund Services, HSBC Securities Services
Hannah Goodwin, Managing Director, Prime Brokerage, Citi Global Markets
Rocco Paduano, Head of Risk Management, HindSight Investment Management (HK) Limited
Peter Douglas, Principal, GFIA Pte Ltd.
John Feng, Prinicipal, Greenwich Associates
Ron Newell, Senior Vice President, Head, Enterprise Systems Design, OCEO, Corporate Strategy, Singapore Exchange Limited
Tetsuo Otashiro, General Manager and Chief Representative of Singapore Rep. Office, Tokyo Stock Exchange Inc.
Sam Johnson, Executive Vice President and CEO, Trading Technology Products Group, NYSE Euronext
Omar Merican, Chief Operating Officer, Bursa Malaysia Berhad
Rob Fowler, VP Business Development, OMX
Vidhu Shekhar, Vice President, National Stock Exchange of India
Grace Lin, Co-Chair FPL Asia Pacific Regional Committee; Managing Director, Asia Pacific Equity Electronic Trading, Citi Markets and Banking
Topics to be discussed:
Capturing Liquidity in Asia Pacific
Cutting-Edge Technologies in Trading
Setting Up of Hedge Funds and Prime Brokerage in Asia
The Business of FIX - Investment and Return
EMS Developments in Asia
The Changing Landscape for Exchanges & ECNs
Short Selling in Asia
Registration:
To register for the 5th Asia Pacific Trading Summit 2007,
please click here
. No admission fee required for industry participants but pre-registration and approval required. Priority is given to registrants from FPL membership firms and buy-side institutions (Restrictions and Limitations Apply).
For Content Contribution / Speaking Opportunity: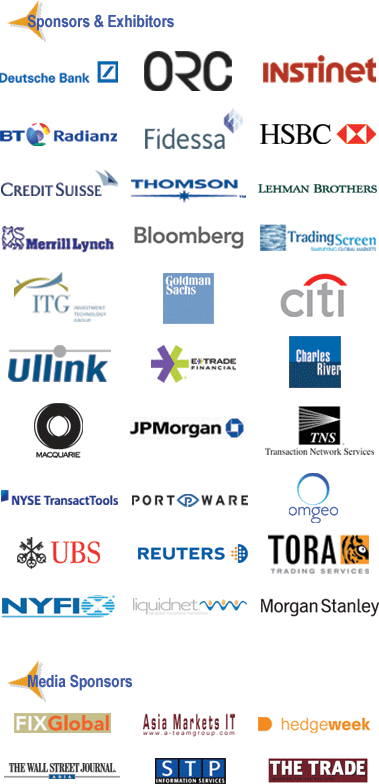 To protect our climate, we have made this summit a CarbonNeutral ® event.