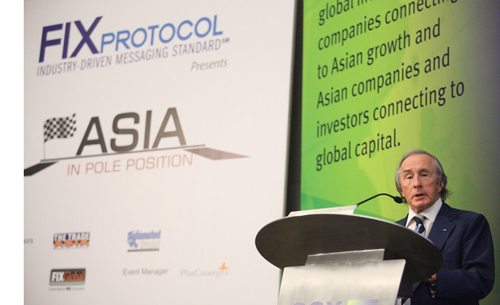 The Singapore FIX Briefing was another full house event. Besides the discussion of the hot issues like High Frequency Trading and ASEAN trading links, the keynote speaker Sir Jackie Stewart earned a standing ovation for his speech.
The sensational speech of Sir Jackie Stewart started the event on a high at which he shared a lot of his personal stories; particular on how "going the extra mile" can make a lot of difference in life and business. It was inspirational and filled with good laughs and well worth for the standing ovation he received.
ASEAN trading then took the center stage straight after Sir Jackie's speech, with brokers, vendors and the exchange representatives sharing their views with the audience on the outlook of the ASEAN link. From the results of the interactive voting questions, it seems that many are still skeptical about whether the link will be an overwhelming success.
The two panel discussions after the coffee break were very insightful with the buy-side traders and the hedge funds COOs candidly discussed issues around trading and accessing liquidity in Asia, as well as the technological developments in trading.
The event ended with a high with the very entertaining Jeopardy competition between the Sales Trader and the Electronic Traders. In this nail biting contest, the Electronic Traders led throughout the game only to see the Sales Trader clinched the title at the final Jeopardy question. I am sure the Electronic Traders will be back for revenge next year to reclaim their trophy and champagne.
Also worth mentioning are the funny animated skits played between sessions which delighted the crowd with some witty conversations.
The post event cocktail at the Pierside Bar brought the event to a close, of course with the companion of a lot of drinks and the great view of Marina Bay.