The 6th Asia Pacific Trading Summit - Hong Kong 2008
JW Marriott Hotel
Tuesday 3rd June, 2008
FPL Asia Pacific Education & Marketing Sub-committee is organizing the 6th Asia Pacific Trading Summit 2008 in June 2008 in Hong Kong. The event will bring together over 250 of the region's leading buy-side dealers, hedge fund managers, brokers, traders, exchange representatives, regulators and solution providers.
The dynamic group of leading speakers and panelists, from some of the most successful and innovative firms in the global electronic trading arena, will highlight the different buy-side, broker, vendor, ECN and exchange perspectives.
Nick Leeson will give his views on risk management in the modern trading world and take questions from industry commentators
Buyside traders, regulators, exchanges & sellside from across Asia will meet to discuss the challenges and future of electronic trading
Martin Wheatley, CEO of the Hong Kong SFC, will provide insight into market regulation in a changing electronic trading environment
Exchanges and representatives from a variety of countries including Australia, India, Thailand, Singapore, Taiwan and Malaysia will provide important updates about market changes, and debate the issues of trading within and across Asian markets
Lively Q & A sessions and Interactive Voting will help gather instant feedback from the audience and fuel further debate amongst the panelists and speakers
The day will finish with a Networking cocktail event and Prize draw, including the opportunity to win a HOLIDAY to an Asian destination covered by the conference
Opening Keynote Speaker:

Guest Speakers:

Regional Updates from: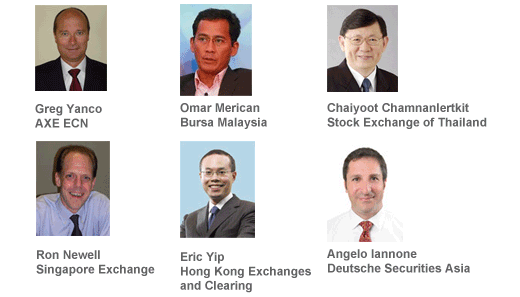 Featured Speakers Include:
Martin Wheatley, Chief Executive Officer, Securities and Futures Commission, HK
Omar Merican, COO, Bursa Malaysia
Louis-Vincent Gave, CEO, GaveKal
Kent Rossiter, Head of Regional Asia Pacific Trading, RCM Asia Pacific
Greg Yanco, CEO, AXE-ECN
George Molina, Director of Asian Trading, Franklin Templeton Investments
John Fildes, Managing Director, Instinet
Kathleen Grey, Global Executive Service, BNP Paribas
Angelo Iannone, Head of Equities Sales Trading, Deutsche Securities Asia, Taipei Branch
Himanshu Kaji, Industry Expert and Consultant, HNK Consulting
Dewang Neralla, Director - Technology, Financial Technologies
David Klinger, Managing Director, Liquidnet Asia
Ron Newell, Senior Vice President, Head, Architecture, Technology Division, SGX
Srinivas Padmasola, Electronic Trading, Merrill Lynch
Brook Teeter, Head of AES Sales, Credit Suisse
Mike Nichols, Senior Sales-Trader, Cantor Fitzgerald India
Ned Phillips, CEO, BlocSec
Eric Yip, Head of Cash Market, Hong Kong Exchanges and Clearing
Joel Hurewitz, Sales, Hong Kong, CLSA
Chaiyoot Chamnanlertkit, CIO, Stock Exchange of Thailand
Nick Leeson, Industry Commentator
Angelo Iannone, Director, Head of Equities Sales Trading, Deutsche Securities Asia Ltd.
You will learn about the latest issues on
ECNs and Dark Pool
Regional Regulatory Issues
Electronic Trading in India
Regional Exchanges Updates
Emerging Competitions in Asia
The Evolving Trading Landscape
This event is free to all delegates and it is strictly by invitation only. The day will be brought to a close with a cocktail evening, giving you the opportunity to talk to everyone involved in the day.
The FIX Committee very much looks forward to seeing you all there, at what we think we will be a very successful day.
Format:
1-Day Conference with Presentations, Solution Exhibitions, Networking Luncheon and Cocktails Reception
Registration:
To register for the 6th Asia Pacific Trading Summit 2008, please click here. No admission fee required for industry participants but pre-registration and approval required. Priority is given to registrants from FPL membership firms and buy-side institutions (Restrictions and Limitations Apply).
Sponsorship and Exhibition Opportunities:
All exhibition spaces are SOLD OUT and all sponsorship closed on 2nd May 2008.
About FIX Protocol Ltd
FIX Protocol Ltd is a non-profit organization that owns the intellectual property rights of the Financial Information eXchange protocol (FIX), which is provided free in the public domain. FIX is a globally recognized messaging standard enabling the electronic communication of pre-trade and trade messages between financial institutions, primarily investment managers, broker/dealers, ECNs and stock exchanges. For more information, see
www.fixprotocol.org
.