DMA, Algo, SOR, FIX, TCA, VWAP, High Frequency Trading, Liquidity … When you have a large auditorium filled with industry professional listening intently to conversations where almost every sentence has one or more of the above words, you can be certain that the Indian markets have come a long way with electronic trading since its introduction a few years ago.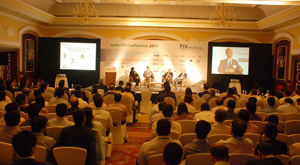 FPL hosted this one-day electronic trading conference with almost 300 participants from domestics and international sell-side firms, buy-side firms and exchanges packed the ballroom to listen to the domestics and international speakers to talk about the various aspects of electronic trading in India. It was in fact a highly oversubscribed event with over 100 people not being able to join the event due to the limitation of venue capacity.
The event kicked off with the discussion between Suresh A Mahadevan, Head of India Equities of UBS and Vikram Kotak, CIO of Birla Sun Life Insurance on the outlook of the India markets at which optimism is apparent. Questions were raised and opinions expressed from the delegates which sparked a very interactive day.
Greg Lee, Director, Head of Autobahn Equity Asia of Deutsche Bank, no doubt was the most talked about sessions of the day, illustrated with the aid of a few market data animations how the India markets have evolved in the last few years. There were notable difference in trading style and market characteristics in both NSE and BSE (reflected by the changes in volatility, spread, trading volume etc.) in recent years especially after the crisis and the introduction of Algo. Greg also touched on the subject of SOR and clearly explained when it will be beneficial to investors given the high settlement cost involved.
The discussion then moved on with John Fildes, Co-Chair FPL Asia Pacific Regional Committee, and Director of Strategic Development of GETCO Asia spoke to R Nanda Kumar, Senior Vice President of NSE, Latika S Kundu, Head - Market Operations of MCX and Jim Shapiro, Head - Market Development of BSE touched on the hot issues of co-location, interoperability, regulatory issues etc.
Zoltan Feledy, Equity Trader of SSGA, also the Asia Pacific co-chair of FPL, interesting explained the FIXatdl so both the techie and the biz guys have a grip on how it revolutionize the deployment of Algo.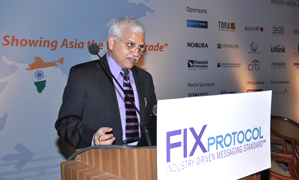 The afternoon session started with a very comprehensive speech by Mr. J N Gupta, Executive Director of SEBI. In his speech, Mr. Gupta highlighted SEBI's views on some of the big issues such as Algo, co-location and the much talked about DMA. The open sharing with the thinking behind the regulations was highly welcomed by both the domestics and international delegates.
Anshuman Jaswal, Senior Analyst of Celent then gave a brief overview of the markets in terms of FIX, DMA and Algo adoption in India together with some prediction of the market trend.
"Beauty and the Beast of Trading in India" is the topic of the broker panel discussion which gathered representatives from both domestics and international firms (including Rajesh Dharamshi, Director Institutional Trading of Motilal Oswal Securities, Arbind Maheswari, Senior Equities Sales Trader of DSP Merrill Lynch, Chetan Patni, Co-Head of Equities in India of HSBC Securities and Capital Markets, and Rajeev Saptarshi, COO of Kotak Institutional Equities) to talk about the issues faced by the sell-side firms. With Ian Smith, Head of Electronic Execution Product, Asia Pacific, Citi moderating the discussion, issues such as documentation and regulation, SOR, Dark Pools, Multiple clearing houses etc. were brought up.
Tarun Anand, Managing Director and Senior Company Officer of Thomson Reuters, Dewang Neralla, Director – Technology of FTIndia., Anant Pandit, Director of Omnesys Technologies and PS Praveen, Country Manager of Transaction Network Services involved in an open discussion on the role of technology in the development of the electronic trading in India and how they are different from their international counterparts. Robert K. Laible, Managing Director, Global Co-Head, Electronic Trading & QPS Sales of Nomura highlighted that the Indian markets haven't reached the stage of technology arm race as yet but technology will play an increasing role in their business models.
The interest from buy-side firms is certainly growing with representatives from the major buy side firms (MF, PMS, Insurance firms) actively engaged in the discussion both on stage and also at the packed exhibition area. FPL conference also ends with a buy side panel discussion and it was no different this year. The final session of the day featured Ritesh Badai, Investments Manager of SBI Life Insurance Co., Zoltan Feledy, Equity Trader of SSGA, Anant Jatia, Director of Forefront Capital Management, Sanjiv Shah, Executive Director of Benchmark Asset Management, and Balaji Vaidyanath N, Portfolio Manager – PMS of Sundaram Asset Management to talk about the key issues that the buy side are facing (such as documentation, lack of block crossing etc.) as well as sharing some of their experience, ranging from the type of Algo they deployed and the number of brokers they engaged with. Srinivas Padmasola, QES - Sales and Trading, Asia Pacific of Societe Generale helped to facilitate the discussion to ensure all ground were covered and one good take away is the strong belief of the rapid growth of Algo usage and DMA in the near future. In the interactive poll conducted at the conference, result showed that electronically executed trades accounted for over 20% of total trades and with usage by domestic institutional investors still being low, this will no doubt continue to be a strong growth area. Anant said at the discussion that his investment management firm has been able to cut transactions costs by half since moving all of its orders to electronic execution a few months back.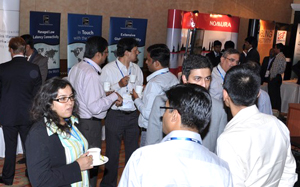 Over 100 delegates joined the after conference drinks at the Dublin Bar to continue the conversations on electronic trading and with the buzz and enthusiasm noted on the day, India will certainly be a booming market for electronic trading for the years to come. "FPL provides a very good and neutral platform for us to discuss the real issues without any sales pitch and hidden agenda, and we love the interactive voting!!!!"