Background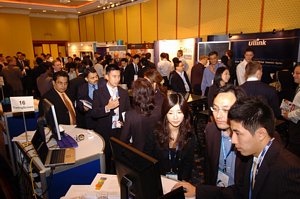 The full day event addressed business and technical issues of electronic trading in Australia with a series of presentations and panel discussions. The current extent of electronic trading and FIX usage in Australia will be highlighted by the speakers from the domestic brokerage firms, buy-side and the exchanges.
The dynamic group of leading speakers and panelists, from some of the most successful and innovative firms in the global electronic trading arena, will highlight the latest trading landscape from different perspectives.
This 1-Day Conference will also feature solution exhibitions, breakout discussion sessions and networking luncheon. The day will be brought to a close with a cocktail reception, giving you the opportunity to talk to everyone involved in the day, making new contacts and meeting old friends.
This event is FREE to all delegates and it is strictly by invitation only. To request for an RSVP, please send an email (providing details of your job position and company) to sammy.ho@fix-events.com or register online. We will process your registration and inform you of the result accordingly. Priority is given to registrants from FPL membership firms and buy-side institutions (Restrictions and Limitations Apply).
The FPL Asia Pacific Education & Marketing Sub-committee very much looks forward to seeing you all there, at what we think we will be a very successful day.
Andrew Fraser, Head of Trading, Challenger

Mark Decourcey, Perpetual

Zoltan Feledy, Senior Business Analyst, State Street Global Advisors

Richard Nelson, Senior Vice President & Head of Dealing, Alliance Bernstein

Matthew Saul, Fidelity

Will Psomadelis, Head Trader, Schroders Australia

Ross Howell, Equities Dealer, Vanguard Investments

James Levy, Former Head of Trading, AMP Capital Investors

Grey Yanco, Regional Commissioner, ASIC

Richard Murphy, General Manager Equity Markets, Australian Securities Exchange

John Fildes, Managing Director, Instinet

Seth Merrin, Founder and CEO, Liquidnet

Mike Corcoran, Head of Sales and Trading, ITG

Ben Valentine, Head of Electronic Execution, Citi Australia

Ben Radclyffe, Director - Direct Execution Services, UBS

Peter Fowler, COO, Chi-X Australia

Ned Phillips, CEO, BlocSec

John Cameron, Senior Technical Advisor, Orc Software

Peter Dunai, Managing Director, IRESS

Peter Sherriff, Principal Architect, Charles River Development

Martin Koopman, Former Co-Chair Fix Protocol Americas

Kym Graham, Vice Presidet and Head of Australian Sales, Instinet

Chris Miller, Head of Electronic Trading, Macquarie Australia



FIX Protocol and the Evolving Global Trading Landscape

What Does Electronic Trading Bring to The Australian Market

Electronic Trading - Buy-Side, Sell-Side and Exchanges Perspectives

Trading in International Markets

Performance Benchmarking, Best Execution and Cost Analysis

Smart Order Routing

Case Studies: FIX Tried and Tested in Australia

The Future Capabilities of FIX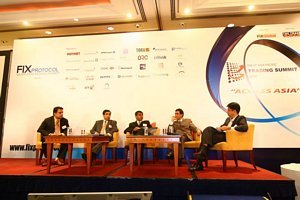 There are exhibition and brand sponsorship opportunities at the FIX conferences. FIX conferences are complimentary to delegates and we rely on Sponsors' support. All FIX Asia Pacific conferences are non-profit making and are aimed to promote electronic trading and FIX Protocol in the region.
To obtain your sponsorship kit, please contact sammy.ho@fix-events.com.
(For the list of sponsors in 2008, please click here)

Buy Side

- Trading

- Hedge Funds

- Asset Managers

-

CIO, CEO, COO and Senior Management

- Trading Technology

Sell Side

- Electronic Trading and Trading Technology

-

Sales Trading

- Connectivity

-

Program / Portfolio Trading / Algorithm Trading

- CEO, COO and Senior Mangement

Exchanges

- Connectivity

-

IT

- Compliance

Solution Providers

- Business Development

-

Solution Consultant

- Marketing

Others

- Performance Analyst

-

Risk Management and Compliance
Please email to: sammy.ho@fix-events.com
FIX Protocol Ltd is a non-profit organization that owns the intellectual property rights of the Financial Information eXchange protocol (FIX), which is provided free in the public domain. FIX is a globally recognized messaging standard enabling the electronic communication of pre-trade and trade messages between financial institutions, primarily investment managers, broker/dealers, ECNs and stock exchanges.
For more information, see www.fixprotocol.org.